I remember having a bunch of OEX puts and the Fed cut interest rates on a Friday and I got a severe case of the RED ASS. Talk about Rogue Trading, there I was enjoying the position, taking a nap actually, (never sleep with OEX puts) should have been a dragon, and then.. Bhaaam!!! Greenspan whiplashes me as the world cheers my misfortune. I don't think I have taken a market position since.
Which leads me to wonder.....................................
Wha-da-duck is this all about?
http://news.google.com/news?tab=wn&ned=us&hl=en&ned=us&q=Jerome+Kerviel&ie=UTF-8&scoring=n
WHEN SOME OF THE MOST INTELLIGENT AND POWERFUL MINDS in the financial world are all doing one thing, it can be very difficult for anyone to do anything else. With fortunes at stake, both personal and financial, going against the trend can sometimes lead to losses totaling in the billions.
If the winds are all blowing in one direction, it takes a brave and confident person to stand against those gusts and forge ahead into a new path. This is what two traders at Goldman Sachs did last year, and their bet paid off. These two traders, with a stronger stomach and a greater appetite for risk than most, went against the common thought on Wall Street and are now being lauded as financial heroes for their efforts.
In early 2006, like almost every other investment bank in the world, Goldman Sachs was exposed greatly to the booming subprime mortgage market. Goldman was doing a lot of business with the mortgage-backed securities that wound up exploding a year later, crippling many of Goldman's immediate rivals. So why didn't Goldman suffer the same fate as Merrill Lynch, Bear Stearns or any of the other once-giant investment banks? The answer is quite simple: they took a huge risk.
But there are more questions than answers.
So I guess I'll get some popcorn and watch this one from the sideline. But the film about
Nick Leeson
vomiting was another factor to my aversion to trading, the red ass and upset stomach isn't worth it.
I'm wondering if a CSO gets the axe, thats "Chief Security Officer." I mean honestly, wouldn't the minimum due dilligence require a RDBMS check to see if there was a valid funded entry for trading?
I don't know.. but this is going to provide some splainin to all involved and I know that those with the Red Ass even if they ain't gonna get there money back, want a better understanding of why it is gone.
The more you read the more this doesn't all add up, I'll have to check live from Davos to see if the French head honcho over there has a better explanation than what we have now. I'll microwave some popcorn saturated with Butter artificial flavoring, tune into Youtube and see what he has to say..
If this is Austrian economics, the ECB at it's best.. munch, munch, spit a seed, munch, munch.... More popcorn
Visual Basic Computer Genuis?
Bank of France Governor Christian Noyer described him as a "computer genius," although the only IT skills he lists on the CV are "Microsoft Office Package - Visual Basic."
Christian Noyer said in a heavy french accent: "He's a genuis I tell ya!" ohhhh uhhhhh "He's a genuis I tell ya!" ohhhh uhhhhh "He's a genuis I tell ya!" ohhhh uhhhhh
"If he was a genius, we didn't notice it," Dominique Chabert, the head of the finance master's degree program at Lyon 2 University, told the newspaper, Nouvel Observateur, according to its Web site Friday.
As the recriminations continue, both Societe Generale shareholders, analysts and the French government have questioned how the rogue trader was able to operate alone.
"It is difficult... to imagine how one person alone could, in a relatively short period of time, cause such considerable losses," said French Prime Minister Francois Fillon.
"They are saying all of this was cunningly concealed, but somebody must have been funding the collateral or whatever was needed to sustain those positions," said Derek Chambers at Standard & Poor's Equity Research.
In an additional twist, the bank has said Mr Kerviel might not have personally benefited from his alleged fraudulent transactions.
The French government has expressed anger that Societe Generale did not inform it immediately after the losses were discovered.
French President Nicolas Sarkozy called the events at Societe Generale a "large-scale internal fraud", but added that the losses "do not affect the solidity and reliability of the French system".
OF COURSE THE CEO of the bank wanted to resign!!!!
But of course inquiring minds want to know how this happened and the resignation request was denied!
Oh the crap that we get fed in the news is amazing, a Visual Basic "genuis" wrecks the French Banking System, well maybe the guy can be recruited to save the electrical grid for DHS.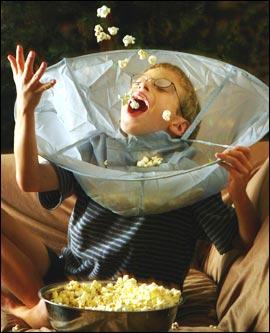 In unrelated news Jose Rodriguez woke up one morning and thought to himself, hmmmm I'm going in to the office and deleting all those tapes.
And a couple well aimed shots and she is sure to duck and kill herself.
Point is folks, at face value these stories just don't seem to hold water, somebody is carrying a bucket of swill for internal public consumption, time to munch some popcorn and wash it down with Koolaid.
Hmmmmmm............
http://www.turkishpress.com/news.asp?id=212410
PARIS - Societe Generale chairman Daniel Bouton defended the bank's management in an interview published Saturday, saying the rogue trader scandal was not the fault of strategic errors.
"What happened at Societe Generale is certainly not a disaster that resulted from our strategy. It is more like an accidental fire which destroys a large factory at an industrial plant," Bouton told Le Figaro.
He rejected the idea the bank had actually sought to hide losses coming from somewhere else.
"That does not stand up, neither technically nor accounts-wise," he said.
He also denied speculation that the woes at the French banking giant led to the dramatic falls in financial markets at the start of the week which prompted the US Federal Reserve to announce an unprecedented rate cut.
"That is absurd! It was the Asian bourses which set the tone," he said.
"We completely respected the integrity (of the markets) by staying within the advised norms that say that no single institution can hold more than 10 percent of a given market," he added.
The French government demanded Friday a full accounting of how a rogue trader at Societe Generale managed to lose 7.15 billion dollars (4.9 billion euros), as it emerged he gambled on over 73 billion dollars -- more than the bank's current value.
Societe Generale said a single Paris trader, named by bank sources as 31-year-old Jerome Kerviel, amassed the losses, virtually wiping out the bank's 2007 profit and leaving it a potential takeover target.

Societe Generale announced at the same time as the fraud that it had lost about two billion dollars on its subprime exposure.

The Bank of France governor said Friday he was certain Societe Generale had not sought to disguise losses made in the subprime mortgage crisis.
hmmmmmmmmmmmmmmmmm....
In short did SocGen follow established accounting rules by shoving all the losses in the accounts for 2007, or should they have been on the books for 2008, the year in which the losses were made?
hmmmmmmmmmmmmmmmmm.........
In The Financial Times today the inside headline is "Markets ask if the Fed was duped?" It seems that a rogue trader (interesting how a lone trader who loses a lot of bank money is always a rogue) lost Societe Generale $7.1 million (4.9 million euros). Seems he knew how to override the risk control systems,
had other employees' passwords
, and built up a massive long position which was down about $2.2 billion by the time SocGen management found out. He produced the losses in just a few weeks. SocGen started selling everything to cover the loss on Monday morning, and the markets moved away from them, growing the loss to the $7.1. That constitutes a bad day at the trading desk.
Some suggest that it was the very selling by SocGen, which was 10% of the market trades, which caused the downside volatility. It seems the European Central Bank knew early on about the problems at SocGen, but the Fed got caught by surprise. The Fed holds an emergency FOMC meeting ahead of the scheduled meeting this week, and makes a shock and awe 75-basis-point cut.
The Financial Times wrote, "The question being asked now by some in the markets is: was the Fed duped into a clumsy and panicked move by the clean-up operation for Jerome Kerviel's [AKA rogue trader at SocGen] mammoth losses for the French bank?"
hmmmmmmmmmmmmmmmmmmmmmm....
Did he have other peoples passwords or did they trade also, and what of the other 2 billion in subprime loss?
For the record folks, everything I know about markets makes this story fishy and I just don't buy the argument of a lone rogue trader...
hmmmmmmmmmmmmmmmmmmmmmm.....
SocGen trader becomes unlikely cyberspace hero
Sun Jan 27, 2008 8:55am EST
By Crispian Balmer
PARIS (Reuters) - Jerome Kerviel's handful of Internet friends might have melted into the ether after he was accused of committing the biggest fraud in banking history, but he has found thousands of new fans in cyberspace.
The 31-year-old trader had 11 friends visible on the facebook.com networking Web site when news broke on Thursday he had been blamed for a $7 billion loss at France's Societe Generale bank. Within 24 hours that number had dropped to one.
At the same time newfound admirers and comics filled the facebook void, creating three fake profiles of the previously anonymous derivatives trader and 21 support groups.
One of the groups is named "Jerome Kerviel should be awarded the Nobel Prize in Economics," and had attracted 1,209 members from around the world by Sunday morning. A straight forward
"Jerome Kerviel FanClub" drew 865 members.
Another more ambitious group was named "If 5 billion persons join this group and give 1 euro we save Jerome Kerviel career". It had just 455 members by Sunday, suggesting the Frenchman had some way to go before salvaging his job.
Kerviel handed himself over to police on Saturday and faced 48 hours of questioning before prosecutors decide whether to open formal legal proceedings against him.
For many Web surfers the verdict was already in.
"Jerome le champion!!!" wrote Nazih Saade from Canada, "Congratulations Jerome we're with you!" said Miles McKernan from Spain, "God damn it, Jerome is the man," said Hussein Tiba from Lebanon. "Jerome Kerviel is the Che Guevara of finance!" Sebastien Philippe said in a post from Luxembourg.
Although market analysts and bankers said the scandal had dealt a sharp blow to France's reputation as a financial centre of excellence, many internauts saw a funny side to the saga -- especially those from beyond French borders.
"Finally a French record in finance!" wrote Sebastian Jousten from Belgium, a longstanding butt of French jokes.
One English-language joke doing the rounds on the Web poked fun at France's 35-hour work week, saying this had "created unbearable levels of stress" for the youthful trader.
"Kerviel was known to start work as early as nine in the morning and still be at his desk at five or even five-thirty, often with just an hour and a half for lunch," said the witticism, posted on numerous sites.
Enterprising souls grabbed the jeromekerviel.com Web domain and suggested the detained banker might have a future as an agony aunt. "Are you trading under pressure? Jerome understands. Send your story now ... confidentiality is assured," it says.
Someone else set up a lighthearted "jerometherogue" blog.
"So here I am, one of the most popular names on the internet, coming in a close second to some porn star no doubt. ... Well at least some are saying I'm good looking. I guess one has to be grateful for small mercies at a time like this."
hmmmmmmmmm...........
Why did this story resonate? Why did this story elicit this response? Well candidly I think it was proportional to the PR stance of the banking in France that 'one man' is the cause of the financing industries woes, when the understanding is pretty pervasive that it is the financial industry itself to blame.
This might be a candidate for the least plausible story of 2008 if of course the loses are not accrued to 2007 on the banks ledger.